Stockton Heath's Favourite Pet Shop Online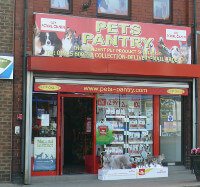 3RD LOCKDOWN - THANKFULLY OUR SHOP CAN REMAIN OPEN AS WE ARE ESSENTIAL FOOD - PET SHOP - WE ARE CURRENTLY OPEN 9 - 5 MON - SAT . IF YOU WOULD PREFER TO USE OUR CLICK & COLLECT & DELIVERY SERVICE GO TO www.petspantry.uk - COLLECTION AT REAR WAREHOUSE ONLY
We are taking all the COVID measure possible. Please wear a mask when visiting our shop & keep a safe distance from other customers & our staff as we want to remain open for as long as possible & keep you supplied with your pets needs. As we are trying to keep our phonelines open for the vulnerable, who need pet goods, if you are able to place your order online rather than ring it through, that helps & is much appreciated. Please wait for your collection, ready email before arriving at our warehouse (Orders will be ready within 2 hours) We very much appreciate & thank you for shopping local & supporting us at what are very challenging times for our business & the high street. Please check our Facebook page for any daily alterations to these hours.
Pets Pantry - Warrington has been in business for over forty years.
The business has been built on excellent customer service and has grown organically from a small corner shop to a large two storey store and warehouse.
The business is run by a husband and wife team that collectively have over 70 years experience within the specialist pet trade. We stock a vast selection of natural and hypo-allergenic pet foods and treats as we believe the fundamentals of good health comes from your pet's diet.
Our enviable range of over 10,000 quality pet products covers all companion pet needs; many from British manufacturers. With our website we aim to give our online customers the same service enjoyed by our face to face customers. We like to think we have kept the traditional pet shop feel to our website with our freshly packed pet foods and treats plus our unique product ranges.
Latest Products