Stockton Heath's Favourite Pet Shop Online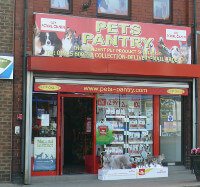 OPEN - Monday - Saturday 9-5pm
Closed Bank Holidays & Sundays
Call in or place an order online petspantry.uk for CLICK & COLLECT or LOCAL & NATIONWIDE DELIVERY. (Mainland Only) https://www.pets-pantry.com/delivery-details
(Collection is from our rear warehouse behind Boots Chemist - pls wait max 2hrs from placing order or until you receive your collection email)
You can also check out our socials on Instagram
Pets Pantry - Stockton Heath - Warrington has been in business for over forty years.
The business has been built on excellent customer service & has grown organically from a small corner shop to a large two storey shop & warehouse.
We are a friendly knowledgeble team with the business being owned and run by husband and wife team Karen and Gary who collectively have over 80 years experience within the specialist pet trade. We stock a vast selection of healthy pet foods, Raw, Coldpressed, Hypoallergenic, Grain Free, Dietetic & Insect protein Pet foods. We believe your Pets are 'what they eat' and quality nutrition is the foundation for a healthy, happy, engaged pet. Our aim is to help give you the advice you need to select the best options that work for you & your pet.
We source most pet products from UK suppliers and manufacterers, aiming to reduce the air miles; along with continuing to decrease our single use plastics via our pet food zero waste dispensers and other initiatives. We look for products that serve a good purpose and will last rather than a throw away culture. Our enviable range of over 10,000 quality pet products over two shop floors plus our warehouse for bulk items, covers all your companion pet needs.
Our services in store include a Dog Harness, Headcollar & Coat fitting & a WeighIN area to keep your Pets on a healthy body score. Free nutritional help & advice from our trained team, specializing in selecting foods for pets with food intolerences, allergy test requirements, elimination diets & dietetic foods along with good food for healthy pets. We have helped many a customer who's pets have had itchy skin, tummy issues, loose stools, dental issues, spelly breathe, flatulence, hairballs, overweight most of which have been solved by changing the food to a better nutrition, as a lot of health issues can be due to poor ingredients,too much salt or sugar in a food. So call in and please ask for help the advice cost nothing and the the result can be a life changing for your pet and often will cost less per day than your current petfood.
As a small dedicated team we offer a friendly, personal service, both in store and online. We like to think we have kept the traditional pet shop feel to our website with our freshly packed pet foods and treats, honest value and a unique range of products. Your Pets our Planet We look forward to serving you again soon.
Latest Products