Coronavirus Disease COVID-19 Our Plan
For everyones safety we are operating Contactless Click & Collect, Phone Orders and Delivery Only from today (Monday 23rd March).

As a responsible business we feel we have a responsibility to protect all our customers and our team throughout this pandemic. To do this we have taken the hard decision to keep the shop door closed from today, while still serving customer over the phone and online. We are continuing to deliver accross the country to ensure your pets have all the supplies they need, as well as offering local contact free collections - this will allow us to continue to supply you.
As I'm sure you can imagine, this was a difficult decision, but we are confident it is the right thing to do to help reduce the spread of COVID-19.
To order, we would encourage you to use our website whereever you are able to as our phones can get extremely busy, but we are more than happy to take orders over the phone for anyone who isn't able to order online. SImply call 01925 398 598.
Our shop will remain shut from today, but click and collect and deliveries will still be available.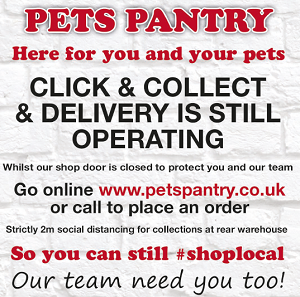 FOR CLICK & COLLECT - NO PERSON CONTACT
If you would prefer not to come in store to be served, you can also place your order online as a Click & Collect order & collect from our parking bay, outside our warehouse at the rear of our shop.
https://www.pets-pantry.com/click-and-collect
If you would prefer no person to person contact, when you arrive at our parking bay, to collect, Call the office 01925 398598 Monday – Friday 9 – 5pm & Saturday Call 01925 268298 - Give your Name & Order number (found on your online order confirmation) We will bring your order out & put it in your boot.
LOCAL DELIVERIES & SELF-ISOLATION
If you are self-isolating, we can deliver your order & leave in a designated place of your choice – please add where your favoured place is, on the comment box when placing your online order.
NATIONWIDE DELIVERIES
Our courier DPD has informed us that they are delivering as normal and if you would prefer not to sign the hand-held device, the driver can sign for you – to prevent contact. These orders can also be left in a secure place at your request as per their normal terms at your own risk.
ELDERLY, VULNERABLE & LOCAL CUSTOMERS WITHOUT ACCESS TO THE INTERNET.
In order to offer extra help to local customers, that are either elderly, vulnerable and or those that haven't got access to the internet. You will be able to ring and talk to one of our team to place an order over the phone. This service will operate Mon – Fri 9 – 5pm on 01925 398598. We will then pack your order and deliver between Mon – Fri to the following postcodes WA1, WA2, WA3, WA4, WA5, WA6, WA7, WA13, WA55, CW8 and CW9. Our days of delivery for this service are each day Monday to Friday. These deliveries are FREE for goods over £50.00 and charges for under £50.00 are as follows: -
£5 for under £25 worth of goods
£3 for over £25.00 up to £49.99
Orders over £50 have Free delivery.
https://www.pets-pantry.com/delivery-details
We hope all our customers & team will be safe and healthy.