Lilys Kitchen Organic Pet Food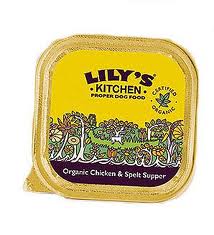 Lily's Kitchen Organic and Holistic Dog and Cat Food evolved due to Lily, a Border Terrier, developing health problems that didn't seem to go away permanently after medication.
Lily had developed very itchy skin and ears as well as having a problem with flatulence. So Henrietta, the owner of Lily, started to home cook Lily's food, with some nutritional advice from her brother; who is a vet.
Lily adored the home cooked food and within three weeks had stopped scratching. Henrietta realised that there were some strange ingredients in Lilys previous pet food that could be causing Lily's health issues.
She decided that someone needed to produce a really healthy pet food, so she set about in her kitchen producing Organic Dog and Cat food. The "Lily's Kitchen" pet food was created so your pets could share in the wholesome healthy diet that Lily is now used to.
Lily's Kitchen was Born. A Wholesome Natural Dog food made with proper meat and vegetables all cooked together. Many of the ingredients within each product are organic and some of the foods are exclusively made from organic ingredients and certified Holistic.
For Local Warrington, Cheshire Pet Supplies look no further either call in or have the goods delivered to your door with our efficient delivery service.