We sell a wide range of dog toys and chews.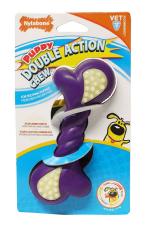 A Dog's teeth are intended for ripping and tearing meat, so a soft cuddly dog toy is often easy prey.
No Dog Toy is indestructible and we recommend, as do the manufacturers, to supervise your dog when first giving them a toy.
We do stock a range of graded tougher dog toys called Tuffys if your dog is intent on chewing his/her toys.
It is best however to supply your dog with a strong dog chew such as a stagbar or nylon based chew if chewing is their only objective.
Soft toys are for supervised play unless you are sure your dog won't chew it.
Some toys contain squeakies and sound devices inside, making them more appealing to your dog. Please be aware of this and if your dog starts to destroy a toy then remove it immediately.
To view our range of dog toys and chews, click here.