What's in your dog's food
Looking for sound advice on how best to feed your dog, when there are so many dog foods available. If you are feeling a bit confused nd bewildered about which dog food to feed your dog the following details may help you. This is some advice that has stood my own pets and my customers pets in good stead over the years.
At Pets Pantry, Warrington, Cheshire we have always advocated dog owners feed a diet that has selected proteins as a base ingredient, with no additives or colourings. The majority of Dog foods we call our key foods meet this criteria.
Within these selected proteins, additive and colouring free dog foods, there are different types - Dry, Wet, Dehydrated and Raw options.
Depending on you and your dog's lifestyle, taking into account your dogs lifestage and energy expenditure, will depend on which catagory of food you decide open.
For some dogs and owners a raw diet works and for others wet pouch, tin or dry food is the answer.
Personally I feel the most important aspect in all of this is to make sure your dog's food is totally balanced, with healthy natural ingredients. So I have put some guideline steps below that may help you draw a conclusion that best suits your dog and you. These guidelines have worked for my pets and for many of my in store customers dogs.
STEP 1
Look at the ingredient list and see if the dog food has a named protein source; (one you can relate too, and recognise as a piece of meat or fish e.g Lamb, Chicken, Salmon etc - (any words in the list of ingredients that appear alien to you, may need greater research to understand what they are before feeding and then you can make a more informed choice.) The more transparent the ingredient list, generally the better the quality of ingredients contained in the food.
STEP 2
Decide whether Raw, Wet or Dry is going to work for you and your dog.
STEP 3
Having decided on the above, look at the ingredient list and choose a dog food that contains selected proteins that are listed as the first few ingredients on that list (this selected protein should be a meat or fish you can recognise the name of e.g Lamb, Chicken and or Salmon etc.)
STEP 4
Look to make sure the food is - artificial additive and colouring free.
To give you an idea of what we mean, I have selected a few dog foods we stock in each category, as good examples of the above.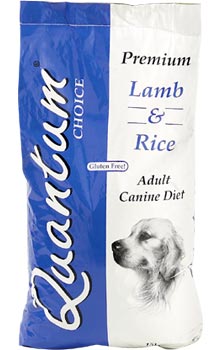 Selected Lamb Protein, additive free, adult dry Dog Food
80% Meat with only Three selected ingredients - Pate Style Wet Dog Food can be frozen if not required within 2 days. Then use as required.

Raw Frozen selected protein Chicken, additive free adult dog food
(We can only deliver frozen foods on our local delivery service within the Warrington area) therefore above are two raw but freeze dried or dehydrated options. The Pure and K9 Natural can be shipped on our courier service within mainland UK.
I hope you find these guidelines of some practical use to you and your dog.