Stockton Heath's Favourite Pet Shop Online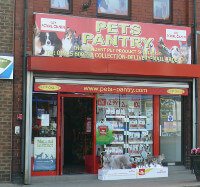 OPEN WHILE CLOSED - CONTACT FREE COLLECTION & DELIVERY ONLY
To help prevent the spread of COVID-19 we have taken the decision to close our high street shop to customers. However we are still open for deliveries and contact-free click & collect.
We have made this hard decision to be responsible and limit the spread as much as we can. So we would appreciate your support in still ordering online and over the phone if you aren't able to order online.
Thanks from all the team at Pets Pantry still working behind the door to get you your pet supplies.
Pets Pantry - Warrington has been in business for over thirty eight years.
The business has been built on excellent customer service and has grown organically from a small corner shop to a large two storey store and warehouse.
The business is run by a husband and wife team that collectively have over 70 years experience within the specialist pet trade. We stock a vast selection of natural and hypo-allergenic pet foods and treats as we believe the fundamentals of good health comes from your pet's diet.
Our enviable range of over 10,000 quality pet products covers all companion pet needs; many from British manufacturers. With our website we aim to give our online customers the same service enjoyed by our face to face customers. We like to think we have kept the traditional pet shop feel to our website with our freshly packed pet foods and treats plus our unique product ranges.
Latest Products